Following a hard-hitting hook received from his counterpart Charles Conwell, Patrick
Day, victim of a traumatic brain injury, was plunged into a coma
before giving up his last breath on October 16, four days after his collapse
Friday, October 18, 2019 ((rezonodwes.com)) – The tragic loss of the Haitian-born American Patrick Day [1]lengthened in the infernal ring of Wintrust Arena, Chicago, is not an isolated case. This even becomes the rule in this inhuman game guided by the blind accumulation of money. From 1890 to 2011, the CNN [2] relayed the shocking statistics of a survey conducted by Manuel Velazquez [3] which reports that 1604 boxers, 13 per year, have made an appointment with the country "without a hat", because of severe cerebral fractures. The comment of the Canadian boxer, of Haitian origin, Jean Pascal, by way of farewell to Patrick Day, is simply thoughtless when he states "Boxing is less dangerous than hockey." In December of last year, the Canadian boxer, Adonis Stevenson, was little out of a coma caused by a cranio-cerebral trauma, against the Ukrainian Oleksandr Gvozdyk. Another victim, Haitian origin, to the carpet.
At 27, the future of the young and brilliant
Patrick Day promised great laurels. This holder of a degree in health,
well-being and nutrition at Kaplan University, could have counted on
academic skills and cognitive skills to earn decently
life, build a beautiful family, live in harmony and peace with oneself
and with his people. Unfortunately, like many others
"Myopic", he had opted for a sport that was not a sport, in the sense
human and sacrosanct of the term. A qualitative loss for the youth, for the
United States and Haiti. May God give courage to the parents, in these
difficult circumstances.
Sports for Health or Illness?
What would be the value of an initiative
if, instead of providing pleasure and healthy joy to those who practice it
and to her tifosis, she would rather bring sadness, mourning, crises
cardiac, amnesia, blindness and deafness by free caning and
the mortal blows that govern it? Since boxing does not target the
fairplay, the protection of life, the promotion of health, well-being
individual and family, it can not be included in the catalog
human sports. Boxing has accelerated losses of positive energies,
unnecessary diseases and deaths. It magnified mental imbalances,
caused grief and left behind many widows, orphans,
disabled people and amnesiacs.
Brain convulsions, coma, K.O. fear,
risks, dangers of death, cerebrovascular accidents, epilepsies, illness
Parkinson's, imbalances, mental instability, these are the words that we
found in the lexical field of this so-called sport between humans.
No ! Boxing is not a sport!
Yes, football brings happiness, the
basketball makes happy, volleyball, tennis, hockey give the
joy to children, youth, adults, fanatics and practitioners.
Failure, checkers, cards, dominoes are brain sports that
convey values ​​and encourage fraternity, solidarity and spirit
of fairplay. That he is amateur,
semi-professional or professional, whoever throws himself into the
options to invest time in these physical or brain games are gaining in
health, culture, love and team spirit. These sound practices give
from flavor to life, they increase life expectancy, improve
health conditions, promote cultural exchanges and broaden the spheres
friends. In addition, they bring positive externalities and happiness
for families as well as simple and intimate friendships. One of the reasons
and sport's creeds consist of
encourage "a healthy mind in a healthy body". Obviously,
this is the case of brain sports and classical physical sports such as
football, basketball or tennis. But this is not the case with boxing
who, on the contrary, batons and body and mind.
What is it for a man to win victories and millions if he loses
his mind?
As skilled, adroit, fast and powerful
whether a boxer, the probability that he
leave his skin in the arena or finish his career, very young, in the
madness, imbalance, mental instability or Parkinson's disease
certainty. Suffer that I bring back to you bitter experiences of
some legends and celebrities of this "sport."
Triple world heavyweight champion, Mohamed Ali was pushed early to
the boxing arena exit, because of Parkinson's disease which
was going to definitively put him K.O after 32 years of fighting in the infirmity and
disability. The true legend of this wild sport has suffered multiple
concussions. Cassius Clay is still very famous for his
strong personality, his commitment to Parkinson's mental disability and his
taking political stances against the Vietnam War and in the movement
of Civil Rights in the United States.
Quintuple World Heavyweight Champion Mike Tyson posted
many unstable and deviant behaviors including rape and ruin in
the alcohol. Mike Tyson was sentenced, in
1992, to six years in prison for his rape on the young American Desiree
Washington. Unsurprisingly, the boxing champion could not manage
rationally about $ 300 million dollars garnered during his
career. Even though he has made efforts to detoxify himself, the nicknamed
"The Iron" will not be able to recover its mental balance nor its belt
of champion he had lost, in ignominy, against Evander Holyfield in
1997. Today, Mike Tyson is financially ruined and incurring debts
colossal.
Bernard
Hopkins, Evander Holyfield, Andy Ruiz, Arsen
Goulamirian Deontay
Wilder, Jean Pascal are all boxing champions who have come close to
some hostile face-to-face, tragic endings by the myriad uppercuts
and the hooks they received at the head. Early to late, serious illnesses will send
these strong men, to the carpet, in impotence, during their youngest
ages.
Whether he is your opponent or your
teammate, when you are not indignant and shocked by the shedding of his blood
human, flowing into the ring and in front of small screens, without legends, you
have a hollow in the heart. And at this stage of bestiality, it will be necessary to solicit
prayer. It is not possible that men, women, young people and
children enjoy themselves and enjoy seeing spirits and souls fall
under the mortal blows of a fellow man. Because of the negative shocks and
the dehumanizing seal they drain, the cockfights or any other
animal are banned in many countries. Security, peace, love for
would the beasts outweigh the positive emotions we are supposed to
to express for humans? Foolish!
Starting from the premise that life is
sacred and that it has no price, it must be understood that any project
in peril peace, health, and human life, should quickly die out. Boxing
being a practice that brings suffering, cerebral disorders,
loss of life, we can not continue this bestial practice
exposes young boys to incurable diseases and premature deaths
If planned texts and actions
international watchdog institutions are not hypocrisy,
bluffs and hidden motives, they should be able to decide on these
dehumanizing practices that favor greenbacks on peace, tranquility
and the health of the human being.
Carly Dollin
carlydollin@gmail.com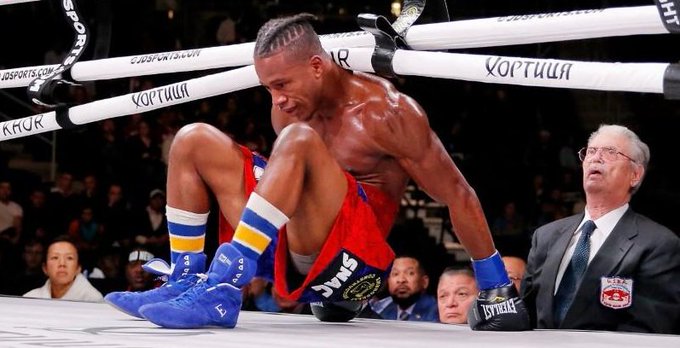 ---
[1] https://www.lepoint.fr/sport/the-boxeur-americain- patrick-day-finally-dead-after-a-violent-ko-17-10-2019-2341838_26.php
[2] https://edition.cnn.com/2019/10/17/sport/boxing -deaths-patrick-day-spt-intl-trnd / index.html
[3] https://ejmas.com/jcs/velazquez/Death_Under_the_Spotlight_2011_Final.pdf
Similar Items
SourceSource link